Press Release courtesy of Starting Gate Communications:
French show jumping athlete Nina Mallevaey has three new horses under her saddle thanks to the generosity of the Rein family.
Cartier SR, a 10-year-old grey Holsteiner gelding (Canturenter x San Patrignano Cassini); Crack d'La Rousserie, a 10-year-old chestnut Selle Français gelding (Quaprice Bois Margot Quincy x Apache d'Adriers); and Chagall des Erables Z, a seven-year-old bay Zangersheide stallion (Cazador LS x Toulon) were acquired from Enda Carroll's Ashford Farm.  The trio of show jumping talents were purchased by Rein Family LLC, owned by Canadians Mark Rein and his wife, Tara Dow-Rein, who began supporting Lamaze in 2020.  Following Lamaze's formal retirement from competition earlier this year, Mallevaey and Canadian Olympian, Beth Underhill, have taken over the reins on his top mounts.
"I am really excited, it is a big opportunity for me," said Mallevaey who began working for Lamaze in August of 2021.  "Eric was my idol when I was young, and to work for him now and be part of such an incredible team is very special.  I've got to experience a lot of new things.  Going to Florida this winter was a big experience, and so is being on a Global Champions League team.  I'm very thankful for everything that the Rein family is doing for me."
Since becoming a rider for Lamaze's Torrey Pines Stable, the 22-year-old has made her debut in Fédération Equestre Internationale (FEI) five-star competition at the 2022 Winter Equestrian Festival in Wellington, FL.  She was also selected for the Rome Gladiators team, owned by Rein Family LLC, for this season's Global Champions League, held as part of the Longines Global Champions Tour (GCT).  At GCT Miami, FL, she won Round Two of the Global Champions League competition riding Chacco Kid before placing second two weeks later riding Kino in the €100,000 1.55m Trofeo Banorte at CSI5* GCT Mexico, MEX.
"We have been impressed with Nina's natural talent and dedication to the horses," said Tara Dow-Rein.  "She has been a great addition to our Rome Gladiators team, exceeding our expectations.  We're happy to support Nina and help accelerate her presence at the top level of the sport."
Lamaze added, "It's not often that a 22-year-old is presented with this sort of opportunity to advance their career – it's almost like a fairy tale – and I know Nina will make the most of it.  I cannot think of anyone more deserving; she's a dedicated and hard worker with no ego.  Mark and Tara are committed owners and I'm extremely grateful for their generosity in providing Torrey Pines team members with top mounts.
"I would like to thank Enda Carroll for working with us and showing us these horses," continued Lamaze.  "We originally went to Ashford Farm to purchase one horse.  After he showed us his inventory, we left with three superstar horses for the future."
"It was a privilege to sell these three horses to Eric Lamaze's stable and we are very thankful to the Rein family for their trust in Ashford Farm," said Carroll, a veteran of the Irish show jumping team who operates Ashford Farm in Bocholt, Belgium.  "It will be a pleasure seeing these three horses continue their careers with Eric's rider, Nina Mallevaey, and we look forward watching them advance and grow to the highest level of the sport.  I want to take this opportunity to thank Eric and the Rein family for their confidence and to also thank my team for their continuous hard work with a special mention to the rider of these three horses, Cecilie Tofte, who has done an amazing job of getting them to this point."
Currently based at Lamaze's Belgian location, Mallevaey will begin competing with her new horses at smaller shows as she gets to know them.
For more information on Eric Lamaze and his Torrey Pines Stable, visit www.ericlamaze.com.

PHOTO
"Cartier SR, pictured here with former rider Cecilie Tofte, is one of three new horses that the Rein family has purchased from Ashford Farm for Nina Mallevaey of France.  Mallevaey rides for Eric Lamaze's Torrey Pines Stable."
Photo Credit – Juan Manuel Photography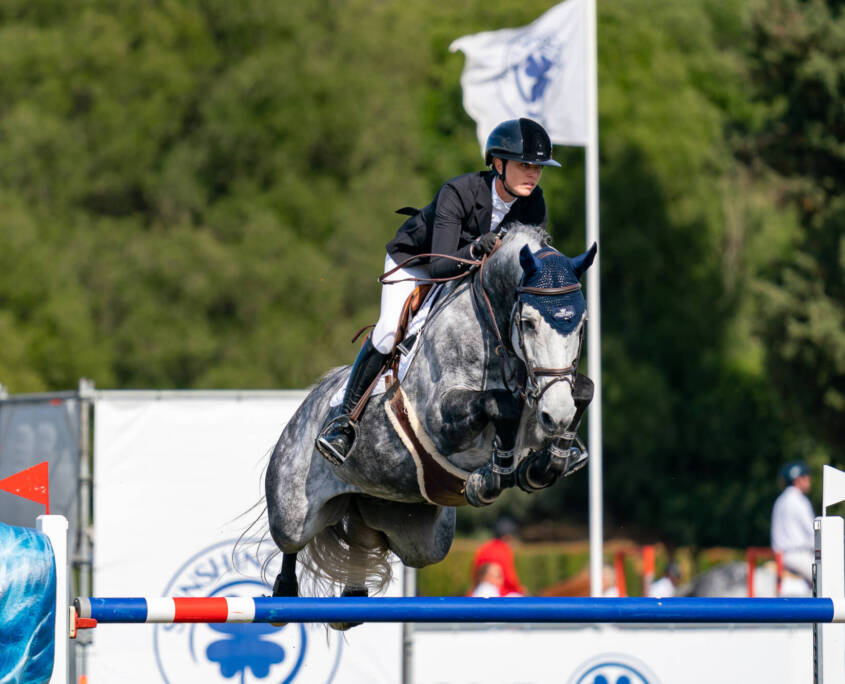 https://www.ashfordfarm.net/wp-content/uploads/2022/06/Cartier_SR_Photo_credit_Juan_Manuel_Photography-.jpg
1333
2000
Eva van den Adel
https://www.ashfordfarm.net/wp-content/uploads/2021/05/Logo-Ashford-farm-300x133.png
Eva van den Adel
2022-06-13 13:04:32
2022-06-13 13:04:32
Top trio of horses sold to Eric Lamaze's stable